intra

Techs. The know-how to turn a concept into a finished product.
Having been in business for 20+ years, intraTechs knows all the imperative aspects of web development. Years of experience in different languages, roles, and industries gives us the expertise to complete your project on time and within budget.

DES

I

GN

Meticulous web application architecture is the first critical step to a successful project.
BU

I

LD

Developing your project with knowledge of the full stack – front end, back end, databases, servers, deployment, systems engineering and cloud platforms.
SEC

UR

E

Ensuring security is built-in throughout all aspects of your project.
Having worked with companies – from startups to Fortune 500's – we can design your project to scale and create the perfect fit. Pushing the technological limits and delivering an end result that meets or exceeds all expectations. We can manage all aspects of your project, from start to finish.
We have a passion for creating great software.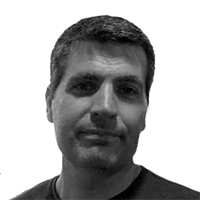 ABOUT DAN HERMAN
Dan Herman is a full stack application developer and systems engineer consultant with 20+ years experience working in information technology and specializing in development.
Lead developer and integrator on various client projects, both web based and client/Win32 interfaces. DevOps expertise with a focus on security, uptime reliability, and infrastructure as code with a firm belief in proactive monitoring of infrastructure.
Extensive custom application portfolio includes eCommerce, financial tracking/workflow, purchasing and procurement, CRM and SFA, project management, and document management systems. Senior level experience in Ruby/Rails, NodeJS, PHP, as well as complementary expertise in Python, Java, Visual Basic, ASP, and Perl.
Dan has been …  an outstanding system architect, designer and software developer for us. He has been easy to work [with], a good communicator of ideas and alternatives, and has asked the right questions regarding requirements, design, etc. He has contributed significantly to the design and development … I highly recommend Dan for the most challenging and time-critical development efforts.
Steve Petchon, Independent Consultant